Helander Company is proud to have received an ASME "U" Stamp for our boiler and pressure vessel products. We have always been committed to quality and reliability, but what does this ASME compliance mean for you and your applications?
What is ASME?
ASME is an organization that allows engineers from all disciplines to share their knowledge and develop their skills through collaboration. Currently, the organization has more than 140,000 members across 151 countries. These members are college students, project managers, researchers, executives, and more.
Along with membership, ASME is capable of providing codes and standards across both private and public manufacturing industries. With such a broad reach, ASME safety standards apply across many different products and a range of applications.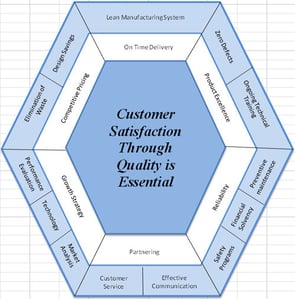 Helander Quality
We have been certified as ASME compliant as an extension of our commitment to providing high-quality, ASME-compliant parts. We always strive to meet all requirements put forth from the client and regulatory standards.
We apply our high standards to the fabrication of float products, pressure vessels, and pressure heads.
Float Products

– Our precision hydroforming and welding processes allow Helander to engineer and fabricate custom components for float valves. These products will meet or exceed the highest standards set by both our clients and all applicable regulations. We can provide a vast range of shapes and sizes in order to accommodate even the most demanding applications in industrial processes.
Pressure Vessels – Using a specialized hot spinning process, Helander is capable of producing seamless pressure vessels for use as gas storage reservoirs. Vessels can be produced with or without bottlenecks, depending on customer requirements, and can be produced with stainless steel, mild steel, aluminum, and more.
Pressure Heads

– Vessel pressure head products can be produced through either our high-precision hydroforming capabilities or through our metal spinning process. Each of these heads can then be welded to the body of the pressure vessel, and are guaranteed to meet all ASME standards, as well as your own specifications.
If you are in need of pressure heads, pressure vessels, or float products, we can provide you with materials that meet all of your requirements. Our adherence to ASME standards for boiler and pressure vessels ensures that the finished product provides you with the highest quality and longest life possible.
For more information on our products and how we can assist with your needs, contact Helander today.

While you're here, check out our eBook, Metal Spinning and Hydroforming- The Stamping Alternative, by clicking the link below.