The team at Helander is thrilled to announce that we will be attending the 2018 Greater Chicago Design-2-Part trade show from Wednesday, May 9 to Thursday, May 10 at the Schaumburg Convention Center in Schaumburg, Ill.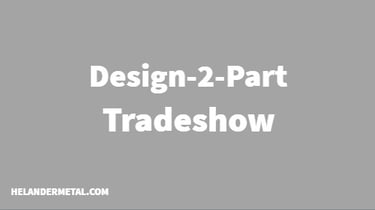 Held regularly for over 40 years, the Design-2-Part Show is the largest trade show for design and contract manufacturers in the United States, bringing together leading engineers and product manufacturers as they search for the best suppliers of custom components and contract manufacturing services.
Attendees will be able to seek out high-quality suppliers while exploring the newest technologies and innovations for solving common manufacturing challenges. Anyone looking to reduce manufacturing costs, find better-quality products, and ensure faster delivery times can expect to meet face-to-face with many potential partners, including those who offer full-service design, prototyping, and custom manufacturing capabilities.
Helander Exhibition
Helander is proud to be exhibiting at the Greater Chicago Design-2-Part Show, where we'll be highlighting our expertise in precision metal components such as metal hemispheres and metal cones, airflow nozzles, pressure vessel shells, tank heads, and magnetic and rotary pumps. Select parts and components will be on hand for attendees to view.
Our team will also showcase our wide-ranging custom manufacturing services, including metal spinning, sheet hydroforming, CNC machining, tooling design, and welding. Attendees will be able to explore options for their specific applications, and our expert team will be hand to answer any questions.
Learn More
Allowing job shops and manufacturers to connect directly with OEM engineers, managers, and buyers, this year's Design-2-Part Show will offer many valuable networking opportunities — plus the chance to view the latest, most cutting-edge innovations.
Ready to learn more about the upcoming 2018 trade show, or looking to discuss Helander custom precision metal manufacturing services? Reach out to the team directly.
Looking to join us at this year's event? Register for free today!