You don't have to be an industry insider to know that green and alternative energy have been a hot topic of conversation for several years. What you might not know, though, is just how far the reach of this paradigm shift extends. Manufacturing companies play an important role in constructing the components that play a key role in harnessing power sources like solar energy and hydrogen fuel. There are also indirect ways in which manufacturers contribute to the viability and sustainability of such operations. This week's blog explores one of each.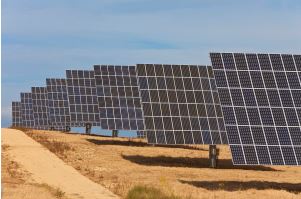 Working with a major fuel supplier, Helander was contacted to produce several prototypes for pressure vessels to transport hydrogen fuel for a number of forklifts. Because of the highly sensitive nature of hydrogen – and the extremely high energy potential which it holds – these vessels needed to be designed to exacting safety standards. Producing 20 of these 6-foot long vessel prototypes, Helander was approved to be the main supplier to the company for this type of fuel transport. Our ability to spin especially sturdy, ¾"-thick aluminum was a major factor in aiding this customer in expanding the role of sustainable fuel.
For a project in which metal spinning actually produces components used on energy-harnessing devices, we look to the example of solar panels. One major source of solar energy in North America is an array of solar panels with a total radius of one mile. These panels harness and focus the energy of the sun on a water reservoir, producing massive amounts of steam energy strong enough to provide substantial power to a community. The base of each of these solar panels is manufactured through metal spinning, exhibiting the versatility and strength of the process.
Keep an eye out for more blogs describing Helander's role in alternative energy, including our own efforts to go green!