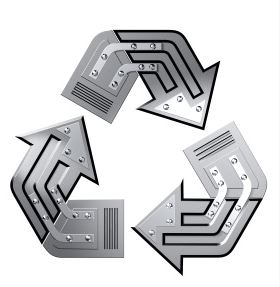 Being able to bring our industry-leading metal spinning together with today's green energy boom is on the top of Helander's 2012 to-do-list, but we also know that we can make a difference right here in Lombard, Illinois.
Most of us have become familiar with recycling at home – bottles in one container and paper in another. It's pretty simple, and, added bonus: we're giving our children a better future.
At Helander, we are beginning the process of turning our 30,000 square foot facility into a more environmentally friendly and green workplace. For a metal spinning company, "going green" is about more than just recycling pop bottles; it involves a multi-step plan aimed at change.
First, we are embarking on an ambitious new recycling initiative. This initiative is aimed at recycling 100% of our scrap metal, waste oil, paper, and wood products. To achieve this high recycling rate, we plan on using a combination of common sense changes including an employee awareness program, and more recycling bins of all sizes throughout the facility.
Our second big initiative involves our facility's lighting. We are currently getting quotes to replace all of our incandescent lighting with high efficiency LEDs and fluorescents. This complete overhaul of our lighting will not only shrink our environmental footprint, but it in the long run, it will also lower our power bills. Lower overhead for us means cost savings for our clients.
Saving our customers money and helping out the environment: a combination you can't beat.
We have set ourselves some pretty lofty goals, but if they allow us to continue bringing our customers outstanding metal spinning while helping give our kids a better future, all the effort will be worth it.