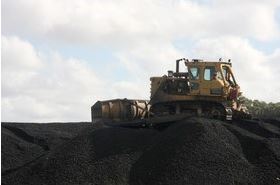 There are many steps on the path to energy independence, but one major one is the continued push of coal mining in the United States. Coal has been, and will remain for quite some time, a major domestic source of fuel. With increases in mining sites and activity comes the need for the equipment to facilitate processes from extraction to refinement to simply transport of workers, equipment, and materials. This is where Caterpillar, John Deere, and Helander come in. The machinery that these top manufacturers of industrial duty, powerful equipment produce often features components manufactured by Helander.
Our main contribution to the earth movers, front-end loaders, bulldozers, and other vehicles that populate most every coal mine site is exhaust system components, specifically catalytic converter shells. The metal spinning process is perfect for the required shape of these shells, producing them efficiently and at the required quality for the harsh environment of exhaust systems. For further durability, we use heat-resistant 400 series steel, ensuring that every component of these machines stands up to the rugged reputation of the names they bear. Besides the catalytic converter, metal spinning is also well-suited to manufacturing exhaust pipe sections, and Helander specializes in reducers and connectors.
Top-of-the-line manufacturers like these don't choose suppliers lightly, and hold every part of their machines up to the highest standards. Helander appreciates the compliment of being part of these American traditions.