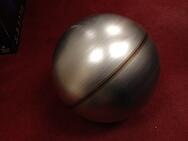 Float Ball 316 SS 14" Diameter
Did you know that
Helander Company
can fabricate the metal float for your application?
We employ a combination of superior hydroforming, metal spinning, welding, and machining processes to fabricate floats in a variety of materials for a myriad of different industries.
These floats are primarily used in level and flow measurement instrumentation, allowing for accurate reading while emptying or filling a tank, vessel, or well; or for monitoring liquid flow through a heating, air conditioning, or processing installation. We've even worked on floats that are responsible for managing the liquid levels in the tank of hydro excavation trucks!
Hydroforming and metal spinning are ideal for these applications because they:
Allow for a completely customizable shape and size
Can work with a variety of metals including titanium, copper, and stainless steel
Have relatively low setup and tooling costs

Want to learn more about our float capabilities? Contact us today.