If you are in the ultra-competitive manufacturing world, you are always looking for an advantage. This is especially true when it comes to die molding specialty products like magnetic rotary pumps.
At Helander we believe that hydroforming is one of the best ways to save money and raise quality levels. That is why we want to share with you our newest eBook, Hydroforming Magnetic / Rotary Pumps about the benefits of hydroforming your magnetic rotary pumps and other products.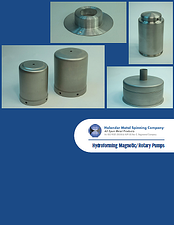 Hydroforming at Helander is perfect for you because it offers benefits like:
The ability to achieve a great deal of precision and tight tolerances

Avoids major casting defects

Hydroforming can be done in both high and low pressure

Creates uniformed wall thickness

High degree of accuracy

Cost Effective and Efficient
When combined, all of these benefits add up to a metal forming method for your magnetic rotary pumps, along with many other products.
If you want to learn more about how Helander uses hydroforming to create superior and cost-effective magnetic rotary pumps, download your free copy of our latest eBook by clicking the link below.