Light reflectors are used by architectural and commercial lighting professionals to augment artificial light. Since people obtain the majority of their information through their sense of sight, light reflectors are always in high demand; these products can provide appropriate lighting, which helps people process visual information faster and with greater clarity.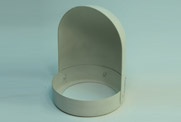 Proper lighting establishes your ideal ambiance; light reflectors aid in controlling the amount and intensity of light in specific rooms or areas. To achieve desired consumer results, light reflectors are often manufactured through metal spinning—a specialized metalworking process known for its abundant benefits, including extreme customization, low-tooling cost, and quality finished products.
Spun metal light reflectors can be custom engineered to enhance any lighting set up; these products can have either seamless or riveted/welded constructions, and are available in diverse sizes, shapes, materials, and finishes.
With the use of metal spinning, companies can choose between cylindrical, spherical, or hemispherical products made from any metal material—these include brass, copper, stainless steel, and aluminum (the most common material for light reflectors).
The metal spinning process is well-suited for any production volume, from prototype to high volume, and the speed of the process allows for timelier delivery of higher-quality products.
Click here to download our Metal Spinning and Hydroforming eBook, or click the button below.